Creating Messages
Click on New or Reply to compose a message. This creates a popup form: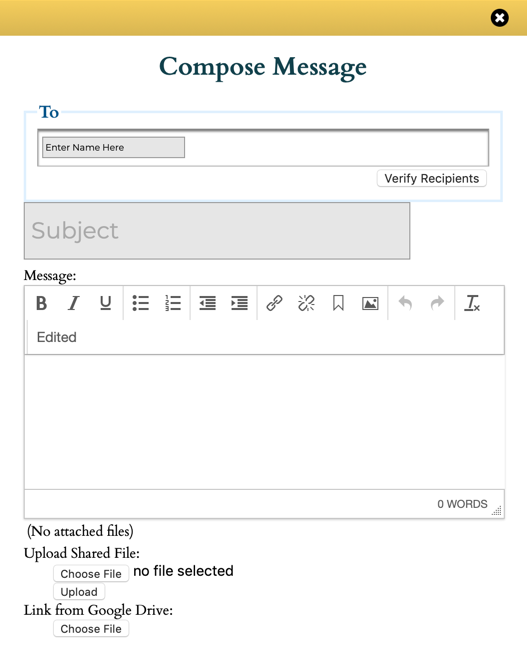 Message Recipients
Recipients may be entered by typing their names in the To field. Be sure to select the named recipient from the auto-complete suggestions: merely typing their name or email address will not work.
Some message replies are automatically addressed for you and no To field is displayed.
In addition to addressing individual users, there may be some group aliases available. These will be suggested as you type in the recipient input field. Aliases may include Browse Categories, Group / Team names, and roles. See Message Aliases for a detailed description of available aliases.
The Verify Recipients button can be used to list all the recipients for this message. This is especially useful if you're using an alias and not sure who is included with the alias.
If you have a question or problem about the platform, you can always message Support by using the form found by clicking on Help at the top of any page (and at the bottom of this Help page.)
Reply All Recipients
If you're replying to a message, and the message was originally sent to more that one person or group, you have the option to Reply All. By default, this is not enabled, but you can click the checkbox which will enable the Reply All list. You can selectively remove people from the Reply All list, if you like. To verify the complete list of recipients, use the Verify Recipients button.
Message Contents
Enter what you like within the Message input field. You can use formatting, include images if useful. Recall that the message itself will not be sent to external email address, merely a notice that there is a new platform message. The Subject line will be sent to the recipient, so use that to your advantage.
Attachments
You can include attachments with your message. Note: attachments never leave the platform. Recipients will be notified of the message, but will have to sign into the platform before being able to view attachments.
Pressing Send
When you send a message, the recipient(s) will be notified by regular email that they have a new message. The subject line will be included in the email notice. The body of the message remains private and visible only on the platform. If the user has chosen to receive notifications via SMS a similar message is sent via Text Message.
Fortunately the recipient's email will include a link to this message, so to read it, all they need to do is click on the link. (The link is also included with the text message, if applicable.)
Users who directly reply to email actually send the message to our Reply Bot, which determines how to handle the incoming email. See Email Reply for additional information about our Bot.
See also:
---
Was this information helpful?
Suggestions for improvement?
Still need help?